…don't tell me where the grass is green, tell me who's gonna plant the seeds…
…there you are, you can change the world with a change of heart…–Jarrod Birmingham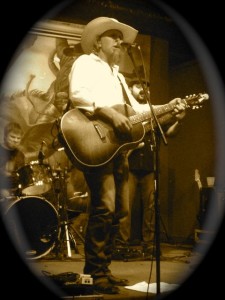 Jarrod Birmingham on Reverbnation
Jarrod Birmingham's 2006 CD, "No Apologies," spawned a #1 single and earned the country music outlaw a top ten spot in the Best Of Texas Top 30 songs of the year.
He has been compared to Waylon Jennings and Hank Williams, Jr. and producer Eric Paul described the country traditionalist as "the first real singer of the 21st century." Humbled by the accolades, Birmingham attributes his pure and gritty musical style to his true grit life style.
"I believe that country music should reflect the common people," says Birmingham. "That's pretty much my mission statement, to stay grounded in the knowledge that I'm a blue collar individual, a country boy. There are a lot of people out there like me, and I'd like to be their voice."
This South Texas native is no manufactured "hat act." Birmingham is a REAL cowboy. A former professional bullrider who has enough pins, plates and screws in his body to make it difficult to pass an airport scanner, Birmingham's music is steeped in stark realism.
"I never really quit riding bulls," he laughs. "The music just sort of took over. But, what you see is what you get when you deal with me, and that is how I want to come across through my music."
Critics agree that Birmingham indeed delivers on record and on stage. One of the best reviewed acts of 2006, he has been described as "refreshing," "rough & tumble," and "a true Texas treasure."
His #1 single, "If You Don't Like Me," confirmed his place as an extraordinary talent on the Texas music scene and his new BMA Records release, "Like My Daddy Did," will introduce the rest of the nation to our Texas treasure.
…sometimes I wish upon a star when there's nothing left to loose…–Jarrod Birmingham
I don't believe, hanging round taking up space, talking out loud, you ain't got nothing to say…So, I'll speak the truth, I'll speak my mind…walk through the valley…looking for a mountain to climb…I wanna wake up in the morning with nothing to prove–Jarrod Birmingham
No Apologies – Jarrod Birmingham
Waitin' and a Wishin' – Jarrod Birmingham

Facebook Music Events & News
Douglas Greer
Dick LeMasters
Dick LeMasters
Zak Perry
Zak Perry Band
Kevin Anthony
Mike Stinson
Got a Tip for Across the Stage? Here ya go…Buy a song!