"Texas native Bonnie Bishop is one of those artists that you will no doubt remember the first time you heard her. I know I will. She's got a little bit of Raitt, Judd, and Nicks all combined in her style, but she is very much her own artist. She exudes confidence all over this album… It's too bad that pop radio doesn't embrace such a blues-oriented sound, because if this were 1990, she could very well give Raitt a run for her money." (Chuck Dauphin/Music News Nashville)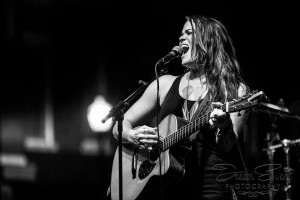 "Bonnie Bishop is so talented…and very special. She's an amazing presence. I think she's going to be a big star." – Bonnie Raitt
Bonnie Bishop has rare musical gifts: The ability to express deep emotional experience in her lyrics, and a voice that delivers them right to YOUR experience. – Jim White, The Pittsburgh Post-Gazette
Bonnie Bishop is a renowned American songwriter who has made her living on the road as a performer for well over a decade. As a full-time touring artist, she has run the small club circuit at a tenacious pace of a hunded-and-fifty dates per year, both as a solo performer and with her band, and built a legion of loyal fans as far as Dubai and the United Kingdom, making her an inspiration to indie artists everywhere. Three parts Carole King, Janis Joplin, and Bonnie Raitt, with a splash of Joe Cocker and a shot of Robert Earl Keen, Bonnie's music straddles the fence between country and soul with an original sound that resonates with audiences from her home in Texas to the international stage. Now with a Grammy songwriting credit under her belt, this 34-year-old singer-songwriter is poised for bigger audiences.
While her touring life has taught her to be an overcomer, it is Bonnie's heartfelt original songs that have propelled her career and earned her the reputation as a prolific American songstress. As a writer, Bonnie's most recent successes include the hit "Not 'Cause I Wanted To", co-written with Al Anderson and recorded by her musical hero Bonnie Raitt. Her greatest triumph to date came when she received her first Grammy for the song on Raitt's comeback album "Slipstream," which won Americana Record of the Year in 2013. "Not 'Cause I Wanted To" was also named 2012 Best Song of the Year by the New York Times.
Her stories of survivial and redemption, combined with weighted subject matter, find their way into empowering and anthemic songs that make up her personally themed playlist. Bonnie sums up her own creative process in this one line from the song "Best Songs Come From Broken Hearts," Track 6 on her latest album "Free": "I went back in the house and picked up this guitar; somehow my fingers found their way to my heart."
It was this sentiment exactly that resonated with the producers of the hit TV show "Nashville" and earned Bonnie her first TV credit in October of 2013 when Connie Britton's charater Rayna James made her comeback singing "Best Songs" in front of 9 million viewers. The song instantly broke the song into the Top 50 on the ITunes country chart.
Like many singers songwriters before her, Bonnie Bishop's music and success has been a story of hardship, surrender, perseverance and redemption. The journey of Bonnie's performance career started in Austin, Texas, where she was studying Theater and Acting at the University of Texas and sitting in regularly with local blues bands. She was soon discovered by local musicians Riley Osborne and Derek O'Brien, who took Bonnie under their wing and recorded her first a demo of blues covers. After a heartbreak in her early twenties inspired her to pen first tune, Bonnie decided to pursue a career in songwriting by putting a band together and hitting the road. Always determined and resourceful, she trained herself to manage every aspect of her music career from booking to production, as well as teaching herself to play first guitar and then piano. Her Texas career soon flourished into performances along side Robert Earl Keen, Eli Young Band, Hayes Carll, and Willie Nelson. She went on to co-produce and release three studio albums and one live record of original material, earning her a nomination for Vocal Performance of the Year for her album "Things I Know" at the Lone Star Music Awards.
In 2008, Bonnie left her beloved Texas and arrived on the Nashville music scene, where she signed a four-year publishing deal with Bobby Rymer and started collaborating regularly with legendary songwriters Mike Reid, Al Anderson, and Pat McLaughlin. She also forged musical frienships with blues guitarists Tim Krekel and Lee Roy Parnell, both of whom reignited her childhood love of soul music. Nashville presented a host of personal hardships, particularly a painful divorce that furthered Bonnie's musical story and set her on a path of self-discovery which resulted in her fifth album, "Free."
In the words of Austin Chronicle's Margaret Moser, "Free Bonnie (landed) squarely between survival and redemption." A collection of unapologetically honest songs inspired by the singer's own journey of faith, "Free" was also called "easily one of the best albums of the year" by the Houston Chronicle. Bonnie's soulful compositions and raspy voice outlived her personal reinvention and saw her pairing Stevie Wonder-esque piano rythyms (courtesy of co-writer and co-producer Jimmy Wallace) with her most heartfelt lyrics yet, all written with one simple notion: You have to love yourself before you can fully love and be loved by anyone else.
This journey of faith also led Bonnie to create "The Revival!", a Sunday afternoon series started in Nashville with members of her band, The Modern Day Prophets. Inspired by a trip to the House of Blues Gospel Brunch in New Orleans, "The Revival!" marries the more rocking side of Bonnie's music with her originial inspirational tunes as well as classic hyms, the result of which is in an uplifting musical experience that attracts both believers and non-believers alike. This year, she is pairing this event with Thistle Farms in Nashville to raise money for women who have been victims of prostitution and sex trafficking in Tennessee. It is Bonnie's hope that "The Revival" will become a traveling show that pairs with and supports causes and charities simliar to this in other communities around the U.S.
These days the hard working songstress is splitting her time between Nashville and the Texas Hill Country, where she is currently writing for a new project. As always, when she is not traveling and playing music, Bonnie is continually perfecting her own style of healthy, gluten-free cuisine and serving up dishes that are as unique as her music…which keeps her family and friends happy and well-fed, from Texas to Nashville