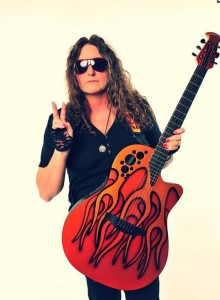 Photo by Brian Burch Nasty Dog
"Robin Kirby opens her heart and invites the listener to share her hopes, her dreams, her love, and her pain. She expresses each and more with a voice that possesses the rarest of qualities: the ability to project both confidence and vulnerability often at the same time." 2010 Houston Press Music Awards Nominee Best Female Vocalist she is often rockin barefoot…pounding a twelve string or a six string while blowing a sweet harmonica and wailing an original or two in several downtown Houston venues.2011 Houston Women's Music Festival in Jones Plaza (Rocbar,Bohemeo's,Legends Jazz Cafe, Fitzgeralds, Rudyards, Hard Rock Cafe,Jet Lounge,Dan Electro's Guitar Bar) just to name a few…
In 2010 Robin released a new CD called "Robin Kirby Live (available only at live shows beginning Aug. 2010).
Robin will be releasing a new country album this year called LOVE (Love Songs From The Heart). These will be love songs from the heart that she recorded at Montrose Studios with Richard Cagle. She just released 9 NEW songs that she wrote in FEB 2014. These will be released as a second album called Distant Rain. She is releasing 2 albums in 2014. Her 1st performance since her heart attack will be March 8th at South by Due East at Dan Electros Guitar Bar 3:30-4pm. She will be doing some songs off both of the new albums…it has been 6 months since she has performed live and is going back in for surgery March 10th and April 10th.