Old Quarter Acoustic Cafe
Texas Singer Songwriter Janet Bell was a fixture at Anderson Fair in the early 80's.
She played lunches when they had them and played music with Linda Lowe. Franci Files Gerrard played bass with her. She played with many other musicians as a result of Anderson Fair.
Janet was the only woman to play in the Texas Lone Star at the Mary Moody Amphitheater on 13 mile road when Texas Our Texas was being performed. On the other nights, she opened the show, out there all alone in front of approx. 3,000 people. She said, "Ike blew the amphitheater away. So Sad!!!"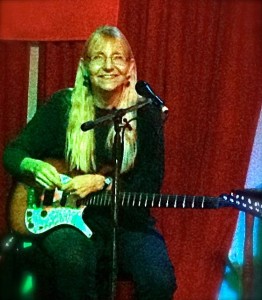 Janet Bell
I was born into a family of artists, musicians, doctors and fisherman. My grandfather delivered me at St. Mary's infirmary. My mother was an established classical pianist and ready to compete in the Guggenheim competition when she met my father. They married and began their life together in Galveston.
At nap time, my mother would practice and eventually my sisters and I were allowed to nap under the piano during her practice. As soon as we could talk, my mother taught us an arrangement for three voices of Sentimental Journey, Hey Little School Girl and (Ti Som O com Budia). Every time company would arrive, she would call us to perform. My younger sister won the battle on who would play the piano so I gave up trying to play.
I played in my first band when I was 11 years old. I played bass and sang and we played Peter, Paul and Mary songs. I left home at an early age and became an emancipated minor. I was given a tobacco shop located in the Flea Market located in downtown Houston. One day these two guys came in to see what was there and I was invited to come to The Old Quarter. The two men were Dale Soffar and Wrecks Bell. I went to the Old Quarter and began a relationship with Wrecks Bell. The guys would have a jam session with Eric Taylor, Townes Van Zandt, Guy Clark, Mickey White, Rocky and Dusty Hill, Darrell Harris, George McClain, and many other musicians who would later become famous.
Wrecks encouraged me to learn to play guitar and I did. I was a thorn in the side of many who would play at the song swap, asking them how to play a song they had played. Everybody was very sweet about teaching me their songs. I asked Townes how to play Darcy Ferrell. He showed me the chords and then the melody and said "just put them together".
I continued playing guitar but changed my surroundings to Colorado. I lived in Aspen with a friend and then went to Little Annie Basin to live in a log cabin with no electricity or running water. I explored ragtime guitar and when I moved back to town, continued to play but never for money.
Next move was to Denver where I began to follow Bonnie Raitt and John Hammond Jr. I frequented a club called Tulogies in Bolder. That was a magic time to hear their great music. Later, I began duo work with a nice man who was a fan of Tom Waites. I learned songs by David Bromberg, Steve Goodman, and other artists.
I played my first open mic at a club called The White Elephant. I was so nervous that my knees were knocking and my hands were shaking. I turned the chair around with my back to the audience and played.
Years went by learning to play bluegrass, jazz, folk, blues, and classical. I played with many different musicians and many different venues. I wrote many songs and was devoted to my music. I had a son and at the age of 30 decided I needed to have a job that would give me insurance with retirement benefits. That led to my attending The University of North Texas where I became a music teacher with capabilities to teach in a classroom. I taught music for 21 years. During that period of time I became a Christian and played in praise and worship groups.
Wrecks had made appearances at various times in my life. In 2008, he and I began to live in love again. We married and these days I play music at The Old Quarter with him and on my own. I have hopes that I will record a CD one day.
Guitar, piano and vocal lessons by Janet: mrsmusic40@msn.com or call 409-457-2378
Old Quarter on Facebook
Old Quarter Acoustic Cafe
Old Quarter Acoustic Cafe
Old Quarter Acoustic Cafe