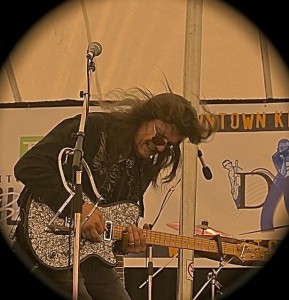 Danny Brooks is a consummate professional who truly believes the least he can do for his audience is to give his best and then some.
My music is a mix of Hank Williams, Solomon Burke, Taj Mahal, John Lee Hooker and the Allman Brothers, Blind Boys of Alabama, and Rev. Jumpin' Jim Jericho. I grew up listening to my Mom's gospel records and Hank Williams Sr, and my older brother Greg's recordings of Solomon Burke, Joe Tex, Bobby Blue Bland and Sam Cooke. Mixing those influences with my discovery of the blues greats, Muddy Waters, John Lee Hooker, Taj Mahal, and the Allman Brothers, my music had a southern shape to it at an early age.
'Listening to Danny Brooks is like driving out of Memphis, TN on a sunny Saturday morning into the Mississippi Delta listening to WDIA. It's one of those things where time stands still. A dash of Eddie Hinton, Solomon Burke, Rev. James Cleveland and Howlin' Wolf are all ingredients in Danny's soulful musical stew'. states Greg Martin of the Kentucky Headhunters. Maybe Greg Quill, noted musician and arts writer for the Toronto Star, sums it up the best: 'This is Roots music of great distinction.'
~~~ Hard Workin' Man by Danny Brooks ~ One of my all time favorites. Woohoo!!! Enjoy…Thank you Mr. Danny Brooks for your awesome songs & playing LiVe & allowing me to spotlight you on my website!
FAME Review: Danny Brooks – Texassippi Soul Man
~ Lonesome Highway by Danny Brooks ~
Excert from Nine O'Clock Blues
Brooks, who has been nominated for Canada's Juno Award for Most Promising Male Vocalist in 1991, had begun his solo recording career in 1990. After a move to Llano, Texas, in late 2012, Danny recorded an album called Texassippi Soul Man which contains his current style mix of soul, blues, gospel, rock and country. That album has cemented Danny Brooks as a fine exponent of Roots music.