"I did a song & I want you to hear it. I'll do it at midnight if you promise to view it. Put it in a movie & take your friends to it. Money in my pocket- let's go out & spend it."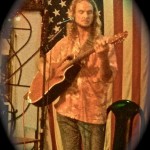 I've been playing & writing songs for about 20 years, never professionally. I've yet to put out a CD. I love playing, writing & catching live shows.
As a youngster I went to Rock & Roll shows. As a kid, I listened to classic country on the radio via my folks in the back of a Ford station wagon on long road trips with the family. My two best friends in high school played in a rock band. One of those guys I still keep up with to this day. He's just recorded, though not yet released his first Red Dirt CD Fuel For The Soul (Jayson Austin). Graduating from high school, I studied Painting & English @ The University of North Texas where I once again befriended & roomed with another terrific musician / artist Brad Tucker.
When done with that I resettled in my hometown of Duncanville. While there I taught high school & caught as many shows at The Sons of Hermann Hall, Adair's, Naomi's Lounge, & The Gypsy Tea Room in Dallas, and Deep Ellum. I caught shows by artists like Cowboys & Indians, Barry Kooda & The Widowmakers, Junior Brown, Elvis T, Busboy, Mary Cutrafellow, Kim Linz & Her Jaguars, The Front Porch Boys, Macon Grayson, Jim Lauderdale, Lone Star Trio, (now Eleven Hundred Springs), Chris Wall, Don Walser, Tommy Alverson, Robert Earl Keen, Moe, Ed Burleson, Brian Burns & numerous others.
Shortly thereafter, I hooked up with my old lifelong friend Jayson Austin. I started playing & writing more often with him. Then I ended up moving with him & his brother & opened a music venue on Seawall Blvd in Galveston, Texas where we managed a club called Sloppy's Roadhouse. We hosted live area blues artists like Marina Rocks (then Guppies From Outer Space), 7 nights a week. As lively as the place was, we had to close our doors and my friends & partners left town. I stayed, kept playing, & doing commercial art & sign painting.
Later, I was fortunate enough to land a 4 night a week bartending gig for Wrecks Bell at his legendary listening room Old Quarter Acoustic Cafe where I took part in his open mics & got to attend some notoriously great shows over the past 4 years, watching & listening carefully. After all these years & shows I still get to see, listen to & laugh with Wrecks Bell who plays several times a week. He has been probably my biggest influence & my favorite live performer. Wrecks introduced me to the music of his livelong friends & fellow performers Townes Van Zandt & Lightnin Hopkins. Townes & Lightnin are no longer with us but Wrecks & his wife, Janet are still entertaining me and crowds of numerous people several nights a week.
Life is good! I'm also lucky enough to know & listen to the likes of Matt Mejia, Come See My Dead Person, Kevin Anderson, Clark Duhon, Zak Perry, James Sturrock, Kendall Klay, Hayes Carll, Burt Wills, Adam Carroll & Marina Rocks – whose talents I hope will some day rub off on me!
I've also come to know many younger artists such as Mlee Marie from Houston and others through my good friend and noteworthy songwriter himself -Korey Jones:(Permanent Eclipse; Atomic Desk & now "The White Moth Project". Korey "Human" Jones, has had for years a thoroughly researched music website, Unionofhuman.org, which continues to be a rich source of young musicians and artists from several cities in the U.S.
Like I said "Life is Good". Thanks for listening! Thanks for checking out my art work! Praise God!
All music, lyrics, & all artwork & photos done by me. Videos & Mp3 recordings done by SANDRA SKRABANEK & SLS DESIGNS . Additional videos done by GLENDA TAYLOR @ Across the Stage