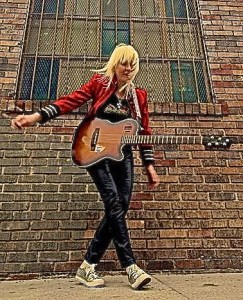 Hollywood Steve Rangel with HOUSTON MUSIC NEWS …The album "Believe in Love" has more artist integrity than the last five American Idol winners combined. This is a gifted and honest artist.
Does size matter? Dynamite comes in small packages, and marina is a little
blond chick that weighs in at a mere 100 lb. plus tax.The size that matters here
is the size of marina`s heart- it is as big as Texas (which just happens to
be her born-and-raised home state). Her super-sized heart beats in the
chest of a beautiful, young woman on a mission to open your mind and rock
your world!
Born in Austin during a summertime heat wave, she arrived in this world
smoking and she has never cooled off. Her mom, who still lives in Austin,
bought marina her first guitar and she played it till her little kid
fingers bled- and then she played it some more! When marina turned 12 or
13, her mom bought her a Marshall stack instead of a party dress. marina`s
semi-autobiographical composition, "Shero", reflects her deep feelings of
love and gratitude for a parent able to appreciate and support a daughter`s
indefatigable pursuit of the "beat of a different drummer". A young woman
in a man`s world (especially the chauvinistic world of rock & roll), could
be forgiven for getting discouraged and giving up. Giving up is not
something that someone as determined as marina does very often.It is simply
not in her makeup to quit, and her persistence and resilience has paid off
in a fiercely loyal regional following. Without a doubt, the most intense
of these fans are the Harley-Davidson riding crowd who loves serious guitar
players and honest, unpretentious, hard working people in general.
But she won!t ride motorcycles! She says she promised her mom she wouldn't.
Hard-rocking marina fronts a high-energy power-trio based in Houston.
This band rocks with a passion not often encountered in a cover-band
and they have worked into the set list
several original marina tunes that have become oft-requested crowd
favorites.The band is edgy and guitarist/vocalist marina is a performer
that feeds off a good crowd and she is always full of surprises! They have
played major venues with well-known names of rock royalty…such as Boston,
Styx, Aerosmith, Kansas, Deep Purple, Joe Satriani, and
America, just to name a few.They continue to conquer new objectives on an
almost routine basis. The band broke into the playlist at
KFAN radio station in the Texas hill country with the marina composition
"John Wayne" and in July 2006 the unplugged/solo version of the song hit #
1 on Texas Top 40.com
A total of four of her originals songs have charted in the top five on
Texas Top 40.com
Now for something completely different! In response to popular and
persistent fan demand, marina has put together a CD with a dozen a dozen
unplugged-style versions of her most requested original tunes.The result is
a delightfully spontaneous and challenging body of work that holds up under
repeated listenings and stands up to critical comparisons with even the
great, recognized practitioners of the song-writing craft.The compositions
are shining examples of epic story-telling delivered by the
writer/performer with unwavering conviction and a fire-in-the-belly
ferocity. The ballads are the real hidden treasures. Even after you hear
them several times and and familiarity sets in, the hook-laden ballads
still have the power and reach to catch you off your emotional guard.
marina enjoys the intimacy of performing acoustic-solo in small rooms and
she has begun to do this type of gig more and more frequently. She
appreciates any venue where the song-writing is the star and she has
adapted well to the demands of being the dazzling delivery system for her
musical creations. Here,the embedded message contained in the lyrics never
gets drowned out or stepped on by the roar of a high-intensity rock band.
Yes,size does matter and sometimes smaller is bigger. Big things are in
marina`s future. Don`t miss the artistry and excitement of the pretty
little lady with the pretty big bang!
sb-mgmt
Update! …May 4, 2012: Solo career picking up! Been opening for touring acts @ The Old Quarter Acoustic Cafe (Thanx Wrecks Bell) in Galveston,Tx. Name drop zone…opened for Terri Hendrix & Lloyd Maines, Hayes Carll, Shake Russell, Jessie Dayton, and Adam Caroll.
And saving the best for last, I'm so excited…I won a contest (I never win anything!)… a songwriter's contest @ 106.9 fm " The Ranch" in Corsicana,Tx. YIPPIE!! Part of the loot for winning is a ten song recording session, a beautiful Jasmine guitar and a invitation to perform @ Larry Joe Taylor"s way-cool Music Festival for 20,000 people. I got to rub elbows with Larry Joe Taylor, Radney Foster, Michael Hearne, Jason Boland and a cast of thousands…we had a blast!!!
Bman's Blues Report~Sunday, September 29, 2013