Cheryl's
roots run deep in the mountains of Eastern Kentucky though she grew up in Covington, Kentucky. She performed on the Greater Cincinnati Area music scene for many years covering multiple styles. The coolest moment so far has been getting air play on local Cincinnati radio stations, WNKU and WAIF with the iconic band The Flock. She sang several cuts on their album 'Recovering Catholics'. Hanging out in the band with prolific songwriter David Gilligan inspired her to be more serious about her own songwriting.
Local bands since landing in Galveston include Two-Bit Karma and Gulf Coast Rockers. In addition to working with KID she has decided to be more involved on the songwriter scene as a solo artist. Jack Saunders of White Cat Studios in Houston is producing her solo CD as we speak. Stay tuned!
The Band
Kickin' It Dixie (KID)
is an upbeat retro band in the Houston/Galveston area. The band has a roots-based Americana sound with a Country-Blues-A-Billy mix. Original music is def on their set-list!
Cheryl and David were simply having fun at back-yard BBQ's in 2009. The idea of a retro band surfaced in early 2015, that's when Chris responded to an online add. There's no recall of an actual discussion as to whether or not this will work out. It just evolved. So, the band's 2 yr. anniversary was celebrated this past October with the unofficial release of the self-titled debut CD! These folks all hold day jobs and pursue this passion on the side.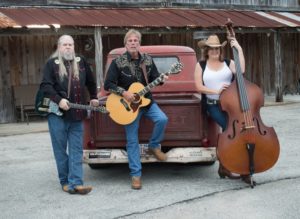 The Debut CD
The core trio decided to keep it fun in the style of their live performances and played most of the tracks themselves. Invited guest artists were icing on the cake! Chris & Cheryl are writers on several of the tracks but decided to shop the catalogues of some of their writer friends to keep things interesting. Great decision! This album pretty much sums up the band's sound in a live setting. You will certainly hear a true Americana sound with influences from country, blues, and rockabilly!
***** Band Members *****
Cheryl Cawood Bobbitt
Singer/Songwriter/Musician (lead & harmony vocals/electric & upright bass)
Chris Prichard
Singer/Songwriter/Musician (electric & acoustic guitar/mandolin/lead vocals)
Chris proudly hales from El Paso, Texas landing in Houston in 1969. At one point in his musical endeavors he was part owner of a recording studio in Los Angeles, CA. The studio recorded local LA bands and singer/songwriters. Wowza!
Back in Houston in the 1990's, Chris hooked up with long-time friend and singer/songwriter Gerald Bates. They put the band Bates Motel together and co-produced an original CD, 'Sofa King Cool' with the fabulous Jack Saunders. It received air-play on KPFT. When Gerald moved to Austin Chris would travel there monthly to play music. They performed at venues such as Poodie's Roadhouse and in Luckenbach. Sadly, Gerald passed away in September 2008. In loving tribute, the new KID CD includes a few of Chris and Gerald's songwriting collaborations.
Chris also performed locally with bands Kevin Hale & the Bayou Boyz, and Cashville. He currently plays guitar in another band called Free Beer who cover classic rock tunes. These folks play for the sheer joy of making good music together! How cool is that?!! Look for them in and around Houston and Galveston as well. They are nothin' but fun!
David Bruce
Singer/Musician (acoustic guitar/banjo/lead vocals)
David was born and raised in Texas City, Texas. Music was in his home and heart as far back as he can remember. His mother and uncle both dabbled in country bands. Traditional country and classic rockabilly tunes are what he is all about. He and his friend Gene Defore played as a duo for many years at backyard BBQ's and private parties. Gene encouraged him to try another instrument besides guitar. That's when he taught himself to play Earl Scruggs style 5 string banjo. Being the rhythm player for KID is the first time David has been involved in a larger project. He likes to tell everyone "We love singing and playing those old songs!", probably because he is simply being true to himself!
Guest Members
Justin Brouillard
Jessie Esquivel
Joseph McPeek
Dustin Harper
Tom Irwin
Andy Scott
Kevin Anthony
Richard Avant
Marty Starns
~~~ Got A Tweet? ~~~
Kickin' It Dixie Twitter
~~~ Buy a CD? ~~~
cdbaby ~ Kickin' It Dixie