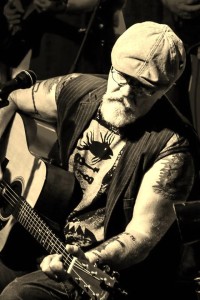 Douglas Clyde Martin, born Douglas Kent Gilreath in Lansing, Michigan on April 21st, 1953 to Gordon and Jean Gilreath, along with my 4 brothers: Steve my twin, my younger brothers Mike and Brad also twins, and my older brother Robert. I have a wonderful Daughter Amanda, a great Son-in-Law, Lee, and Gavin Patrick O'hern my grandson, all whom live in the foot hills of the Smoky Mountain in east Tennessee.
My Music career began at the age of 12 when I picked up the Guitar and learned to play on songs like Louie Louie, Gloria, and the Beatles. Garage bands were not recording software in the 60s, but where we would practice and have concerts. Instead of a curtain we raised the garage door. I played in bands and did some solo work in high school, but never got to play a real gig outside of high school and private parties, until I moved to Tempe Arizona. There I met Ken Willis, who ran a local open mic. Within a few weeks I decided to try my luck on the open market, so I learned 40 cover songs and went through the Phoenix phone book and started calling all the bars in town, until I landed my first gig at a piano bar called Mr. Blinkers in Glendale AZ, an old hangout of Marty Robbins.
That was the beginning.
I would have to say my music really kicked in when I moved to Jonestown TX, in 2007.Though I have written songs as long as 40 years ago, my song writing has only truly developed since coming to Texas. I always said there must be something in the air down here. I started out hosting an open mic at Larry's Lone- star Bar in Jonestown, and played a few gigs at bars and parties but nothing serious. We were lucky enough to have a place called True Grits in Jonestown, owned and run by John and Anita Klingler, who loved and supported local music, and I and some good friends even built a backyard music venue called Clyde's Corner, with the façade of an old western town.
A few years ago I loosely formed a band from guys that played at an open mic at Point Venture, and from there it has changed some faces and has now become the band Clyde.
Around the same time I decided to change my stage name to Douglas Clyde Martin, taking the name Clyde Martin from my grandfather. We started out as Douglas Clyde Martin, to Douglas Clyde Martin Band, to Clyde Martin Band, to Clyde. Our current configuration includes Jay Dee Hicks on Cajon and a 5 gallon bucket bass drum, who has been with me since the early days. Josh Ribikove, lead guitar and mandolin, came aboard about a year and a half or so. Lisa Fancher, guitar and mandolin, and Eddie Block on bass, have been with us for almost a year now. We just released our first CD and look to produce more in the near future.
My song writing covers many styles but I would put it under Americana. We call it porch stomp. I like to take you from highs to lows and everywhere in between. If you don't listen to the words you will miss out the really good stuff, it's pretty personal and real.
CLYDE is about music that makes you want to tap your foot, bob your head or shake your butt. Add lyrics that you can relate to and you've got "Porch Stomp" music. Its all original music written by Douglas Clyde Martin. Our bag of tunes spans 30 or so years and sounds as lived in as we are. We use guitar, dobro and mandolin for melody and leads.. A bass ,a number of percussion instruments , a cajon played with brushes and a 5 gallon bucket kick drum adds to the rhythm.
There are 5 band members and 5 voices. Clyde handles the lead vocals and is the songwriter. Josh, Lisa, Eddie and Jay Dee sing harmony and backup.
If it's not fun we don't do it and if people don't like us then we are in the wrong place. As one of Clyde's songs says.".It's too late to sell out now."
Clydeabides@gmail.com
775 527-5882