Old Quarter Acoustic Cafe


Rex "Wrecks" Bell is a Texas singer-songwriter born in Dallas but raised mostly in Texas City, Texas. He has released two solo albums, Dog's Life and Wreck's Blues. Wrecks played at Carnegie Hall as the bass guitar player for Lightnin' Hopkins, and has also played bass guitar for Townes Van Zandt and Lucinda Williams. He was a partner in the Old Quarter bar in Houston, Texas that hosted many well known musicians. Currently, he is the proprietor of the Old Quarter Acoustic Cafe in Galveston, Texas. The Old Quarter Acoustic Cafe specializes in folk, americana, and country music. It also hosts an Annual Townes Van Zandt Wake on the first of January each year. Only Van Zandt's songs are played. This event draws musicians from around the United States and a few from Europe each year. Hayes Carll, a new young talent getting very good reviews worldwide, was "discovered" by Wrecks Bell at The Old Quarter open mics.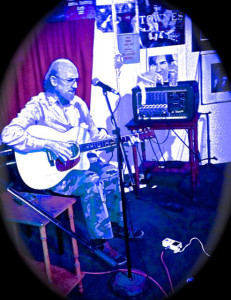 Wrecks Bell on Facebook
Lifetime Achievement Honor ~ Texas Music Awards
His name, "Rex," was immortalized in the title of a Townes Van Zandt song, "Rex's Blues," but Townes would never let Wrecks play on the song. He'd always make him sit down or at least lay out while he played it. As many times as Townes played "Rex's Blues" while Wrecks was in his band, Wrecks never played the song with Townes. Whether Townes meant that as an homage or a punishment was never quite clear. Wrecks gets his chance to return the honor or his revenge, however you choose to see it, as he releases "WRECKS' BLUES," the debut album from this Texas legend. On "DOG'S LIFE," Wrecks shows that he can grab us a second time. Produced by Ray Wylie Hubbard, and accompanied by some great musicians such as Augie Meyers, Mickey White, MyTexasMusic,artist Diane Craig, and 1999's Musician of the Year, Gary Ragan (who won the award while in Lucky Boyd's band, The Tollbooth Violators), this CD shines with all the greatness we've come to expect from Wrecks. The first CD was an intimate offering, mostly acoustic, and showing off Bell's fabulous voice. The second disc shows that Wrecks Bell has solidified his place in music history as a true legend with music that can satisfy those with a flair for the commercial, while comforting those who simply want to hear Wrecks being Wrecks. Here's a kicker, all of the songs on both discs were performed using Townes Van Zandt's finger picks, which to this day, are never more than an arm's length from Wrecks. It's hard to listen to these discs and not think of Townes, but it's easy to become a Wrecks Bell fan, and that, my friend, is a cold worth catching. Wrecks has now released the debut offering from The Hemmer Ridge Mountain Boys, who were Townes' band for years. Recorded live at The Old Quarter Acoustic Café in Galveston, this disc reprises the famous pig-latin version of "Redneck Mother." This is a must-buy for Wrecks Bell fans. The newest addition is the J.T. Van Zandt and Wrecks Bell combination CD. The first eight cuts are all J.T. singing favorites from his father's catalogue and three tunes of his own. The disc includes nine cuts from Bell himself. The whole disc was recorded in one take at the famous Old Quarter Acoustic Cafe in Galveston. If you've ever been to the Old Quarter, listening to this disc will take you right back there, hearing the songs as only that room can allow them to be delivered. My Texas Music ~ Wrecks Bell
"Rex Wayne Bell & Janet Bell";"Owners" . Started in Houston in the early 70's by Rex and his partner. Started as a music venue/coffeehouse;"one of the first of many like it to come ! Earliest known "stars " to frequent it were Townes Van Zandt; "Emmylou Harris";"Dusty & Rocky Hill"; "Lightnin Hopkins"; who later took "Rex" with him on the road as his Bassist;including a show at Carnegie Hall! Moved to Galveston in '94, where it saw the makings of "Hayes Carll" come into being after a short stint there as Rex's bartender/performer.Gets frequented today by the likes of "Joe Ely, Ray Wylie Hubbard,Guy Clark,Jesse Dayton,Sisters Morales,Dave Olney&Sergio Webb,Shake Russell,Dana Cooper, Hayes Carll,Butch Hancock,Terri Hendrix,Lloyd Maines,Marina Rocks,Fred Eaglesmith,Come See My Dead Person,John Evans Band,Southern Backtones,The Trishas,Kevin Welch,Ramblin Jack Elliot,Band of Heathens,Seth Walker,Hemmeridge Mountain Boys,Adam Carroll,Flamin Hellcats,Owen Temple,Larry Joe Taylor,Scott Nolen..& more!Open Wed. thru Sat Nights.Open Mike Wed. & Thurs.;with Rex & Janet hosting!Wine & Beer only."Conversations with Rex $2.99 per minute!.."WHERE LYRICS STILL COUNT!"… Upcoming Showtimes Old Quarter Acoustic Cafe
Rex "Wrecks" Bell Is Just Playing
by John Nova Lomax Wednesday, Sep 24, 2008
The Galveston singer-songwriter spent a lot of years a lot of years on the periphery of music greatness …Houston Press
JT Van Zandt & Wreck Bell backstage @ the Old Quarter in Historical Galveston, Texas

Texas Music Awards Special Announcement
February 16, 2013
At this year's show, the Academy will be honoring two incredible musicians with the LIFETIME ACHIEVEMENT AWARD! ~~~Mr. Shake Russell
…and Mr. Wrecks Bell!
Cover Story: Town memorializes bluesman with new statue
The unveiling presents musical tributes by Crockett bluesman Robinson (singing Hopkins' Katie Mae), Mineola songstress Ruthie Foster, Hopkins' former bassist Wrecks Bell and Austin slide guitarist Steve James — after which Hopkins' 54-year-old granddaughter Bertha Kelly gets up to say a few words.
Houston Chronicle | March 31, 2002
Texas Highways ~ Culture & Lifestyle
Houston Chronicle~Thursday August 7, 2014
Star bock vs Starbucks: The Final Round
Van Zandt scrapped virtually all of the originals he performed on the set save for "Talkin' Thunderbird Blues," which he kept in his repertoire at least long enough to make the cut for the 1970s recording of Live at the Old Quarter. ~
Houston Press
Possessed of both a wild streak and a wry sense of humor, Rex "Wrecks" Bell would seem …http://www.houstonpress.com/2000-10-19/music/out-of-townes/full/
Old Quarter Acoustic Café by Daniel Barker
On January 31st, Wrecks Bell welcomed the son he never wanted back to his Old Quarter Acoustic Café for night that would be a celebration of many things this night represented.

Old Quarter on Facebook
Old Quarter Acoustic Cafe
Old Quarter Acoustic Cafe
Old Quarter Acoustic Cafe