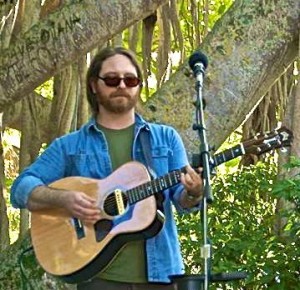 If there's a performer today that embodies the oft-applied moniker of "songwriter's songwriter" it's Houston favorite, Matt Harlan. A troubadour of the first degree, Matt has been bringing his songs of bus-stops, coffee-shops and lives overlooked to stages across his home-state of Texas, the USA and Europe.
Born and raised in Texas, Harlan soaked up the richness of the state and its song-smiths while bouncing between its big cities and small towns. With three studio albums to his name, Harlan exposes a range of influences, to interpret a generation steeped in plastic yet filtered through the Hill Country limestone. His expressive vocals recall Chris Smither and Chris Knight, shading his poignant songs with soaring heart and aching grit.
Matt has just released his third album, "Raven Hotel," which was recorded in Austin, TX with producer, Rich Brotherton. The collection features tunes in a variety of moods and is being well received by national and international Americana radio, earning a #1 debut on the Euro Americana Charts. ~~~> Matt Harlan Band Camp
Harlan is a winner of multiple songwriting accolades, from outfits like American Songwriter and Billboard. Most recently he was awarded the 2013 Singer-Songwriter of the Year at the Texas Music Awards and was featured alongside a stellar cast of characters (Lyle Lovett, Guy Clark) in the documentary, "For the Sake of the Song." News
You can find Matt out on the road this year in the US and abroad. Check the schedule for more details. ★**¨* ★ Upcoming Shows ★ *¨**★
* Got a Tweet? * Matt Harlan Twitter * Follow? *
.