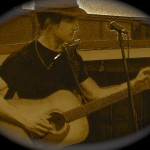 Born and mostly raised in Houston, Texas, Robert Kuhn left for Pennsylvania at the age of eighteen, where he studied Mathematics and English Literature at Bucknell University. After Pennsylvania, Robert worked and traveled through New York and Texas before descending to South America. From 2001 to 2010, Robert lived in Chile, Colombia and Costa Rica before finally settling in Nicaragua as a farmer, fisherman and vagabond writer, playing music all the while. In 2010, he moved North to Houston and onto Galveston, where the music took over.
Check out his Upcoming Shows on Reverbnation
Robert Kuhn on Reverbnation
A few days ago Robert and I received this beauty – his wonderful music and my funky art all wrapped up into one cd case. Not a bad gift for our one-year mark! — Catherine Barry Stroud
FRI. NOV. 29, 2013 Robert Kuhn CD Release!!
Old Quarter Acoustic Cafe
Robert is one of our favorite local performers!-Wrecks & Janet Bell owners of Old Quarter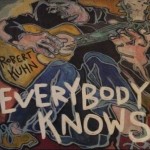 Check out his new CD Everybody Knows at his upcoming shows and available on iTunes!
`

Facebook Music Events & News
Across the Stage shared Mary Wollard Pregler's post. ...
Where do you start --- All the fine folks that made Vince Mejia Benefit a success. Lets start with the musicians who are always the first to step up and help, Zak Perry kicked off the show and a show it was - then Salty Dog took the stage and the great Tommie Lee Bradley & Andra C Mitrovich joined them one at a time. And to top it off both ended singing together. Followed by Sister Sister Band and finally Joe King Carrasco joined by Tom Proctor. Big Rob Daily and his Son John Scott manning the Pit And Chynna Daily for serving the food all day I might add. - Sherry Hadley - Chrissy Stouten - Vicki Glen & Pricilla Priscilla Collins Stahl slinging drinks. Now to all the fine people who supported the Benefit and donated items for the Auction none of the events could be done with out all of you. Again a Big Thank You form Vince Mejia - Mary - Bucky - and The Silver Spot Saloon
Douglas Greer
Dick LeMasters
Dick LeMasters
Zak Perry
Zak Perry Band
Kevin Anthony
Mike Stinson
Got a Tip for Across the Stage? Here ya go…Buy a song!